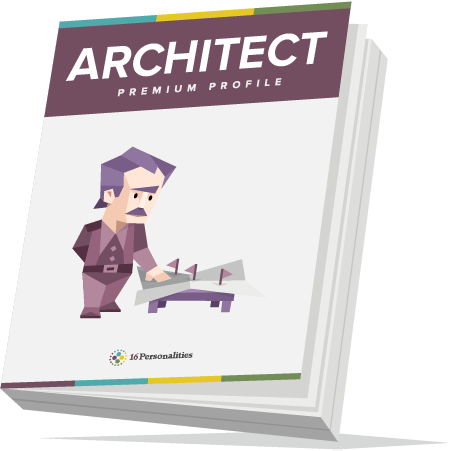 Premium Architect Profile
Instantly download all 16 premium profiles, 3,600+ pages total – and gain access to knowledge that will help you understand your friends, partner, colleagues, and everyone else around you better.
Instantly download your
267
page
Architect
(
INTJ – A/T
) premium profile. Our research is now at your fingertips – treat yourself to a transformational, inspiring experience.
E-mail address
(we'll send your download link there)
We'll send this message and the download link to the e-mail address above.
Your name
(as printed on your card)
Card number
(without dashes or spaces)
Country
(where you usually live – we need this for tax purposes)
Unfortunately, we're currently unable to process your order. Swiss VAT legislation requires foreign companies to appoint a tax representative in Switzerland, and as a small online business, this isn't something we can afford. Sorry!
Get 20% off by subscribing to our newsletter – exclusive insights and advice for
Architect
s, sent every two weeks.
Subscribe?
Safe
We do not record your card details. They will be sent over a highly secure, encrypted channel.
30-day money-back guarantee
If you do not find your profile useful, let us know – we'll refund your money, no questions asked.
Trusted by 27,500+ readers
Join thousands of other growth-oriented readers – just see some of the
500+ testimonials
we have received!
Subscribe to newsletter
Please enter your e-mail address:
Thank you for subscribing! Please check your e-mail for the confirmation link. The discount code will be included in the very first message that will follow shortly afterwards.